Urban Systems Associates, Inc. (USAI) is a state of California certified Microbusiness with our main office in the City of San Diego. Our firm was founded in 1980 and we have 36 years of experience in Transportation Planning, Traffic Engineering and Civil Engineering in the Southern California Region. Urban Systems provides specialized consultant traffic engineering services for both private business and government. Our firm offers more than one hundred combined years of engineering, transportation planning, systems analysis, and operations experience in all phases of project planning, development, and management. For the last 36 years, Urban Systems has provided transportation planning and engineering from an overall transportation/transit systems perspective incorporating complete streets principals into our designs. Urban Systems also provides signal systems modeling, CAD support and consulting services, utilizing the latest software and equipment. Additionally, the firm is highly experienced in providing quality presentations to all levels of decision makers.
Andrew Schlaefli, our CEO, is a highly qualified urban transportation engineer, experienced in solving traffic engineering problems in San Diego and throughout Southern California. He is licensed in both Civil and Traffic Engineering in California and Arizona. For the City of San Diego, he directed the City's Transportation Planning Program. In addition, he managed the City's Overall Residential Growth Management Program. Prior to that, he was the Urban Systems Division Superintendent responsible for the management of the City's Capital Improvements Program,
including streets, sewer, traffic control, and other facilities.
Justin Schlaefli, President of USAI, is also a highly qualified engineer with over 16 years of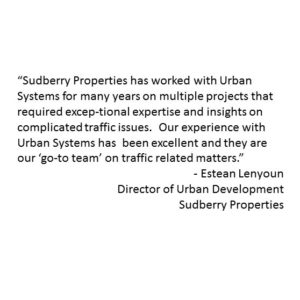 experience in Southern California. He is licensed in both Civil and Traffic Engineering in California. He is also a certified Professional Traffic Operations Engineer. Working at Urban Systems, he has worked on projects of all sizes and scope solving complex traffic engineering problems. He has experience coordinating projects involving multiple jurisdictions. With ITS experience in ramp metering, changeable message signs, signal synchronization and adaptive traffic control, he has experience in the deployment of the latest technologies.
Smart Cities
Connected Vehicles
Intelligent Transportation Systems (ITS)
Wireless and Fiber Optic Communication Systems
Intelligent Transportation System Master Plans
Traffic Signal Synchronization
Traffic Signal Maintenance & Operations
System Networks & Integration Operations
Adaptive Traffic Signal Systems
Traffic Management Centers
Synchro Simulations
VISSIM Simulations
Bluetooth Technologies Applications
Traffic Signal System Maintenance & Operations
System Networks & Integration Operations
Design Standard Plans
Traffic Analysis & Studies
Intersection & Corridor Studies
Parking & Circulation Studies
Signing & Striping
Engineering & Traffic Surveys
On-Call Services
Traffic Signal Design
Traffic Management Plans